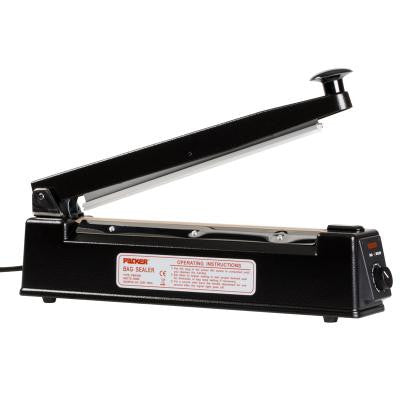 Bag Heat Sealer PBS-300
Product Description
Create permanent seals with the Packer Heat Sealer PBS-300. Ideal for desktop use. Built to a high specification and CE approved it can seal plastics and polythene.
Technical Specifications
Maximum 300mm x 2mm seal
500 watt power.
Adjustable timer.
For films up to 2 x 800 gauge layers
Common product uses
This product can be used to make permanent, tamper proof seals on pre-made food bags or lay flat tubing.
Bag Heat Sealer PBS-300 seals PE/PP/PVC films up to 800 gauge in two layers with seal widths up to 300mm to create bags from lay flat tubing.
Bulk Buy
With Richards Packaging, the more you buy, the lower the price you pay. We won't ask you to enter a voucher code at the checkout for bulk buying, we simply add the discount for you. See below the automatic discount rates that you will receive when adding products to your cart. Price show is per item.
Request a product sample
Sample request is not currently available for this product.
Product specific Delivery information
Standard delivery procedures apply for this product. For more information, see our FAQs pages
Original price
£106.80
-
Original price
£106.80