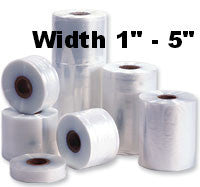 Clear Polythene Layflat Tubing 1" - 5"
Product Description
Lay Flat tubing is a roll of clear polythene tubing and has possible uses, with the most popular being made to fit polythene bags. 
For those of you that are new to Lay Flat tubing, you probably would have come across it it hardware stores.  The small, tough packets containing nails or screws. 
Available in a range of different thickness's (gauge) and widths, you can buy this product as thick or wide as you need.  This product is made by us, here in the UK, so if the size you requires is not available, please ask.  We are confident we can meet your requirements.
Suitable for food use
Suitable for freezers
  Made in the UK at our own Factory.
Who uses this product?
Fastening companies, warehouses. As the tubing is food safe you can use them for all manner of things. 
If you require a different size and gauge not listed please contact us with requirements for fast easy quote. 
For bespoke lay flat tubing made to your requirements usually takes up to 3 weeks from order date
We can make from 1" to 48" width and 100g to 1000g. 
Technical Specifications
Metres on a roll per thickness of tubing
| | |
| --- | --- |
| Gauge (thickness) | Approx Metres per Roll |
| 200g (50mu) | 420 metres |
| 250g (62mu) | 338 metres |
| 500g (125mu) | 169 metres |
| 1000g (250mu) | 85 metres |
Common product uses
Most common use is made to fit, heat sealed bags.  The biggest lay flat tube rolls can be a simple and effective way of packaging larger products such as custom bicycle parts or Garden tools for example.  You can make the bag as big or as small as you need.
Bulk Buy
With Richards Packaging, the more you buy, the lower the price you pay.  We won't ask you to enter a voucher code at the checkout for bulk buying, we simply add the discount for you.  See below the automatic discount rates that you will receive when adding products to your cart.
Request a product sample
If you require a sample of this product, please contact our sales team on the contact us page
Product specific delivery information
Standard delivery procedures apply for products that are in stock. Products that are out of stock will show "Available for Pre-order".  These products are made to order, so please note that delivery times will be 5-7 business days.  For more information, see our FAQs pages
Original price
£12.01
-
Original price
£25.68