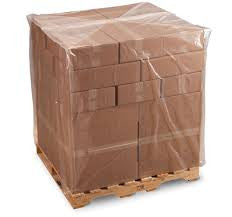 Clear Polythene Pallet Covers
Product Description
Protect items that are stacked on pallets from dust, dirt and weather with Pallet covers.  Suitable for Standard UK Pallets (40"x48").
Secure the pallet load with Polypropylene strapping, click here to see the package strapping products.
 Made in Great Britain.
Technical Specifications
Size: 1200mm x 2300mm x 2300mm
Gauge(thickness): 180g (45mu) 
Colour:  Clear
Suitable for pallet size  40" x 48"
Full Box Qty: 25.
Common product uses
Use by warehouse and despatch departments for protecting pallet loads.
Bulk Buy
With Richards Packaging, the more you buy, the lower the price you pay. We won't ask you to enter a voucher code at the checkout for bulk buying, we simply add the discount for you. See below the automatic discount rates that you will receive when adding products to your cart. Price show is per item.
Request a product sample
Sample request is not currently available for this product.
Product specific Delivery information
Standard delivery procedures apply for this product. For more information, see our FAQs pages
Original price
£3.21
-
Original price
£49.56