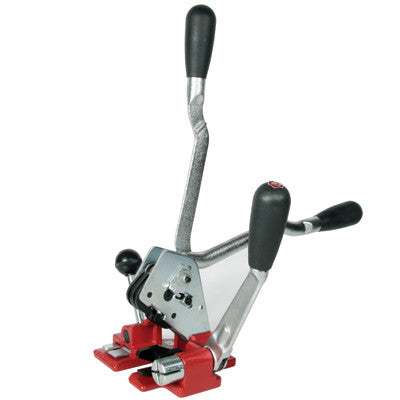 Combination Strapping Tool
Product Description
12mm Combination Strapping Tool for use with polypropylene strapping and 12mm semi-open clips.  Perfect for applying tensioned strapping up boxes.
This tool tensions, seals and cuts the polypropylene strapping, making it easy to apply and low on waste.
Don't forget to order your 12mm Polypropylene strapping and 12mm metal clips!
Technical Specifications
Support Strapping Width: 12mm
Common product uses
Strap sealing tools are often used by warehouse and factories that package items and need to apply a little extra stability to the packaging materials used. 
As an example, when you buy something bulky, like a new TV; the strapping is the bit you have to cut off before you can cut the tape and open the box.
Bulk Buy
With Richards Packaging, the more you buy, the lower the price you pay. We won't ask you to enter a voucher code at the checkout for bulk buying, we simply add the discount for you. See below the automatic discount rates that you will receive when adding products to your cart. Price show is per item.
Request a product sample
Sample request is not currently available for this product.
Product specific Delivery information
Standard delivery procedures apply for this product. For more information, see our FAQs pages
Original price
£118.00
-
Original price
£118.00